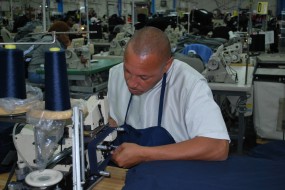 About Us
A PASSION FOR OUR MISSION. A desire to excel. The ability to get the job done. These are core principles at SDV Command Source, LLC (SDV), and we put them to work for our customers, our employees, and our Nation every day.
SDV is a Service-Disabled, Veteran-Owned Small Business (SDVOSB) that fulfills a wide range of government and military contracts, from sewing uniforms and other garments to warehousing and maintaining vehicles for Soldiers deployed overseas. SDV was founded in 2007 and is led by two distinguished retired military officers: Founder Joseph W. "Joe" Adamczyk, Colonel, U.S. Army, (Retired), whose career included command and senior leadership positions across the U.S. Army; and Yogi Mangual, Brigadier General, U.S. Army, (Retired), with vast experience in contracting and logistics.
These are men who understand that "good enough" is not good enough. They bring to SDV their extensive contacts and the respect they have earned, both in service to their country and in the private sector. These are the key factors which separate SDV from the competition. Yogi, Joe, and their team bring responsible, reliable, and mission-based excellence to SDV.
Being a government contractor is a serious obligation, especially when providing goods and services in support of our military and employing Service-Disabled Veterans. At SDV, our word is our bond, and our commitment to operational excellence is steadfast.
Contact us to learn more about how we can make a difference in your business and in "Serving the Most Deserving"—our customers and our Veterans.