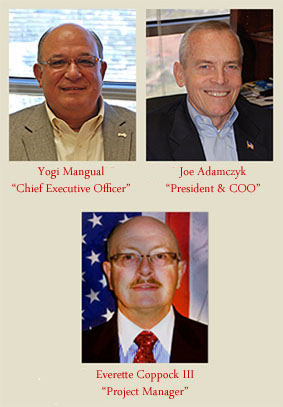 Our Team
SDV COMMAND SOURCE, LLC (SDV), is built on integrity and operational excellence.
It starts at the top.
Yogi is a retired Brigadier General with a reputation for production innovation. He has held senior positions in logistics and readiness throughout the U.S. Army, including commander of the Defense Supply Center Philadelphia and the U.S. Army Soldier Systems Center (Natick). He graduated from Norwich University with a degree in economics and received his master's degree in Contract and Acquisition Management from Florida Institute of Technology. After leaving the military, he held leadership positions with National Industries for the Blind and Winston-Salem Industries for the Blind, continuing his longstanding efforts to ensure opportunities for people with visual and other disabilities.
With nearly 30 years of distinguished military service, Joe is especially committed to the support of our Service Members and Government Agencies and employment of service-disabled veterans and veterans. Commissioned as an Infantry officer upon graduation from the U.S. Military Academy at West Point with a BS in engineering, Joe has served in command and staff positions throughout the Army, including G-3 and Chief of Staff, 1st Corps Support Command, XVIIIth Airborne Corps, and as the Brigade Tactical Officer (Deputy Commandant) at West Point. Joe is a graduate of the U.S. Army Command and General Staff College and the U.S. Army War College, and he received his MEd in counseling psychology from Duke University. Upon retirement, Joe worked in business and management positions with major defense firms both in CONUS and in Iraq, as well as serving as Dean of Students at Valley Forge Military Academy and College.
Everette was hired as part of the SDV team in October 2009 and is valued for his ability to handily manage complex operations. He brings a wealth of professional experience in leadership, logistics, transportation, and training from a distinguished and decorated 30-year career in the U.S. Army, retiring as a Command Sergeant Major, the highest rank an enlisted Soldier can achieve.